New Facelift for Tawas Area Highschool's new Gym.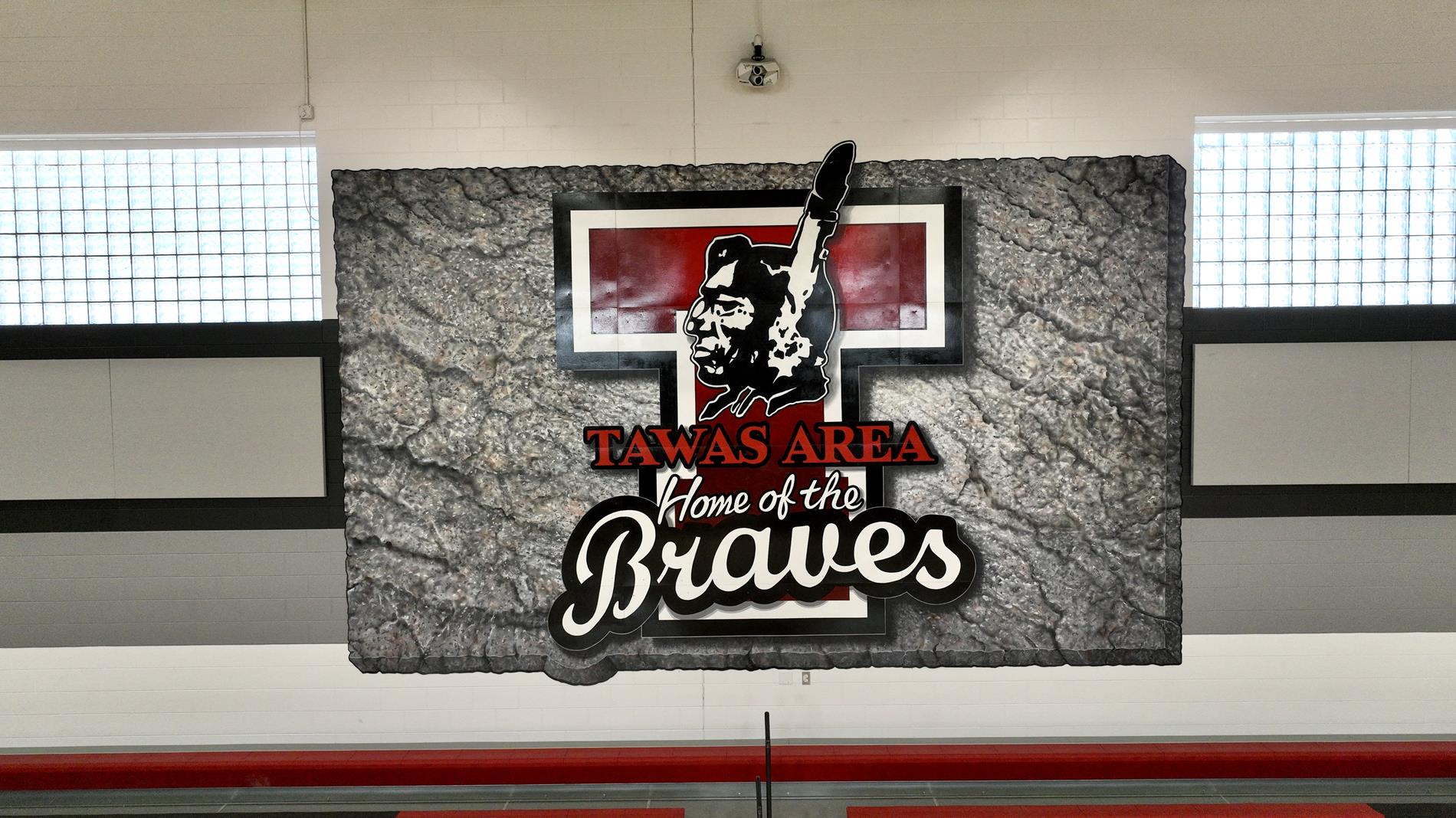 ---
TAWAS CITY – The new gymnasium at Tawas Area High School has been in use for almost seven years now. It just received a spectacular new feature though, as well-known artist Dave Wiley completed a mural on the walls of the gym over the weekend. Tawas' block "T" logo and Brave figurehead are prominent in the artwork, that is sure to jump out as one steps foot in the gym.
"I'm very pleased, very excited and I think it represents the school very well and maintains the pride that we have in the logo and in the school," Tawas Area High School Assistant Principal Stacey Mochty said. "I'm really glad that we could do this."
Wiley is a former West Branch resident, but now lives in Georgia. His artwork can be seen in hundreds of gyms throughout both Michigan and his current state. Mochty reached out to Wiley in the fall to get the ball rolling.
"This is all Stacey's fault," Wiley jokingly said. "She sent me an email and asked are you the Dave Wiley that does the murals and I said, sure, yeah. So, we went from there. They were telling me ideas and gave me input and we started with a sketch. We played around with that and we kept tweaking it until we got it. Once they said go, I was ready to go."
Impressively, Wiley, along with his assistant Bill Thompson installed the artwork in the span of two days; spending Saturday and Sunday in the gym. Wiley completes the murals at his home workshop in separate pieces, then mounts them to the wall.
"When I lived in West Branch we used to be able to drive to all these schools and then I had to go further and further out and I had to find a way to do this so that I wasn't gone all the time. I was living on scaffolding for three weeks and getting volleyballs into the back of the head. I built a nice big shop so now I can put these together (beforehand). I'm glad that everyone enjoys the artwork."
For Mochty, things pretty much fell into place exactly how she had envisioned.
"From going to the various places, mostly through watching the sports of my own children, every mural that I saw that I thought were neat, unique and amazing, they all had Dave Wiley's signature on the bottom," she said. "Really, I didn't know him at all, I just knew of his work."
So, when it came time to make the mural happen?
"Dave Wiley was the name that came right to my mind," Mochty said.
While it came together rather quickly, the end result is something that generations of Tawas Area students should enjoy.
"It was in the middle of the basketball season that we started the concept of the initial drawings and quotes and once we got that finalized it was just within weeks that he already had it done and he was calling me asking when he could install it," Mochty said. "I was shocked that he got it done in that amount of time."